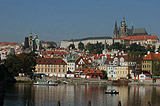 Prague will have a new ferry transport on the Vltava river. The ferry will take people from Prague district Smichov to Podoli and back every day from 6:00 to 22:00 (the journeys will start at every full hour). The official opening is on 17th July 2007 in the afternoon.
The operator of the ferry is Vittus Group company. The ferry will be included in the Prague public transport and passengers can use the tickets of this integrated transport system. The price of one journey is 20 CZK.
The operator thinks that the ferry will be used mainly by people travelling to work, to Podoli swimming pool, to sport area Zlute Lazne or by cyclists.
Time Navigation
Newer articles:
Older articles: