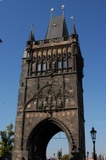 Until 31st August you can visit an exhibition of photographs that depicts changing of the statues on the eastern part of the Old Town Bridge Tower near Charles Bridge in November last year.
The copies of the original statues were made in the 1970's. As the quality of the copies were not good anymore, they had to be replaced with new ones made of cut stone. A unique medieval crane was created for the reconstruction.
The exhibition takes place on the second floor of the Old Town Bridge Tower in the centre of Prague. On the first floor you can see a 18-minute-long film about the astronomical and astrological relations of the origin of Charles Bridge. The film is in seven language versions.
Prague Wenceslas Square exhibition [October 13 2008, 15:49 PM]
Unique Documentary of August 68 Russian Invasion to Prague [August 15 2008, 15:52 PM]
Czech Pes Foto – Dog Photography with an attitude [July 30 2008, 11:38 AM]
Exhibition of Various Faces of the Metropolis [July 25 2008, 08:31 AM]
ALIVE Animal photos Exhibition in the centre of Prague [June 13 2008, 15:51 PM]
Prague of Many Faces – Photographs exhibition at Prague Castle [May 15 2008, 15:34 PM]
Gregory Crewdson photo exhibition [March 11 2008, 15:56 PM]
Half a century of the Prague Castle photography exhibition [November 16 2007, 18:24 PM]
Jindrich Streit Black and White photography exhibition Prague [November 15 2007, 09:02 AM]
Czech Press Photo awards 2007 [October 18 2007, 12:00 PM]
Explosive Roman Signer and his Travel Pictures in Prague [September 20 2007, 16:00 PM]
World Press Photo 2006 in Karolinum [September 14 2007, 16:02 PM]
Prague hosts World Press Photo 2007 [September 13 2007, 14:38 PM]
Kolbaba's exhibition at Prague Airport prolonged [August 31 2007, 15:06 PM]
Prague Castle in Photographs 1939 - 1989 [August 23 2007, 09:22 AM]
Gallery in the train comes to an end [August 16 2007, 14:51 PM]
Look animals in the eyes - exhibition in Prague [August 15 2007, 09:55 AM]
'The Roof of Africa' in Prague's New Town Hall [August 13 2007, 11:39 AM]
Large photographs of gardens of the world in Prague [August 8 2007, 14:41 PM]
The Magic of Eastern Africa in Prague [July 31 2007, 13:10 PM]
Sport Photo 2007 in Prague [July 24 2007, 16:46 PM]
Exhibition of photographs in the Old Town Bridge Tower in Prague [July 17 2007, 15:33 PM]
Drawn By Light exhibition in Vysehrad Gallery in Prague [July 11 2007, 13:05 PM]
Maximum Photography in the gardens of Prague Castle [June 26 2007, 15:09 PM]
Photographs with a flavour of faraway countries [June 20 2007, 09:46 AM]
Time Navigation
Newer articles:
Older articles: