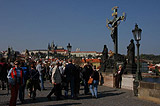 The reconstruction works on Charles Bridge that had been planned for so long already started today. Charles Bridge will be reconstructed in two phases: the first phase should finish in 2010, the other one in ten years. The repair works are necessary due to a bad condition of the bridge.
The reconstruction is run under the supervision of an archaeologist. Any interesting discoveries will be placed in the Museum of Charles Bridge situated in the Knight of the Cross Square.
The bridge will be open to the public. People can even see the inside parts of the bridge as the barriers will be transparent. The works starts near the Lesser Town Bridge Tower and they are mostly financed from the city budget and donations.
Time Navigation
Newer articles:
Older articles: