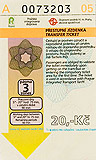 Ticket vending machines offer tickets valid for maximum 24 hours. If you want to buy a ticket for more days or months, you have to visit one of the ticket offices at metro stations.
Prague Public Transport Company have announced that the ticket offices will have longer opening hours at the turn of August and September. The company want to prevent long queues that appear in front of the ticket offices at the beginning of the school year.
From 27th August to 6th September the opening hours will be changed at all 31 ticket offices. The sale will start at 6:30 and finish at 20:00 during the weekdays, the sale at the weekends will be from 7:30 to 12:00.
Information about season tickets are provided on www.dpp.cz, on telephone number +420 296 191 817 or in travel information centres.
Time Navigation
Newer articles:
Older articles: