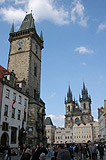 Prague municipal authorities want to finish the Old Town Hall in the Old Town Square soon. The Old Town Hall with the famous Astronomical clock was damaged during the World War II and it hasn't been completely reconstructed yet.
The Mayor of Prague Pavel Bem said that there will be an international architectonic competition for the reconstruction of the Old Town Hall next year. The municipal authorities are now evaluating previous competitions that all failed and they try to learn from any mistakes.
The Old Town Hall became the seat of municipal authorities of the Old Town in 1338. On 7th and 8th May 1945 the Nazis fired at the building and then burned it. 30 years after the liberalization a part of the Old Town Hall was reconstructed.
Time Navigation
Newer articles:
Older articles: