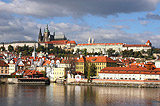 UNESCO warns Prague: if the new skyscrapers, which are planned to be built in Pankrac and Holesovice quarters, affect negatively Prague´s panorama, the city might be deleted from the UNESCO´s World Heritage List.
Commissioners of UNESCO are heading to Prague to consider, how will the view over historical houses be changed by the skyscrapers. They will especially examine, if they won´t be taller than, for example, the St. Vitus Cathedral. They will arrive to Prague in February 2008.
Prague is on the UNESCO´s World Heritage List since 1992 and one of the main reasons is the panorama over the historical part of the city. Prague city council now prepares a document, which will state, how tall buildings can be built in particular quarters of Prague.
Time Navigation
Newer articles:
Older articles: