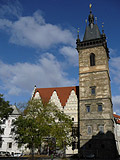 The main aim of the European Heritage Days is to inform about various cultures, to improve the preservation of the world heritage and to respect other cultures. Many monuments that are normally closed to the public, will offer an 'open door day'. We bring you a list of such monuments and interesting institutes in Prague.
On 15th September 2007 you can visit the Church of St Henry and Cunigunde (Kostel sv. Jindricha a Kunhuty, 9:30 – 12:00), Church of St Simon and Juda (Dusni street, 9:00 – 16:00), Church of St Cyril and Methodius (Karlinske namesti, 10:00 – 18:00), Prague Crossroads (Zlata street, 12:00 – 18:00), Ecotechnical Museum (Papirenska 6, 10:00 – 17:00), Kobylisy shooting range (Zernosecka street, 14:00 – 18:00), New Synagogue (in Palmovka, Ludmilina street, 13:00 – 19:00), Liben Chateau (Zenklova 35, 14:00 – 18:00).
On 16th September 2007 you can see the puppet theatre of the National Library (Zatecka street, 10:00 – 15:30), Naprstek's Museum of Asian, African and American Cultures (Betlemske namesti, 10:00 – 18:00; also on 17th September) and the Church of St. Prokop (Sladkovskeho namesti, 14:00 – 17:00).
Both days (15th and 16th September) you can go to Church of St Wenceslas (nam. Svatopluka Cecha, 10:00 – 17:00), Trmalova villa (Vilova street, 10:00 – 18:00), New Town Hall Tower (Karlovo namesti, 10:00 – 18:00) and Museum of the Public Transport in Prague (Patockova street, 9:00 – 17:00).
Related Articles
Comments
Prague Hotels said,

One can only thank the organizers, and the camera arm forward to interesting historic monuments and cultural heritage.
Time Navigation
Newer articles:
Older articles: