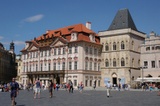 With the end of the summer season several galleries and exhibitions will be closed or open again to the large public.
From 11th to 17th September the Chapel of St Anne's in the St George's Convent will be closed. Today and tomorrow the National Gallery in Prague will also close the permanent exhibition in the Kinsky Palace in the Old Town Square, as well as the permanent exhibition of medieval art in the St Agnes of Bohemia Convent.
The main building of the National Museum in Prague will be closed due to annual preservation of its collections on 17th and 18th September. On the other hand, the permanent exhibition about Czech Cubism in the House At The Black Madonna is reopen again today.
Time Navigation
Newer articles:
Older articles: