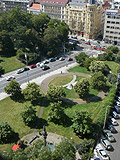 Charles Square (Karlovo namesti) is a really busy place regarding the traffic in the city. What's more, the city of Prague has established new parking zones, which makes the situation for drivers who don't live in that area even more difficult. Therefore, the councillors of Prague district 2 plan to build several underground garages with the capacity of about 300 places as soon as possible.
The city of Prague first have to make a study to find out whether an underground garage under the Jesuit College in Charles Square wouldn't damage the historical integrity of the place.
Charles Square is not the only place that needs more parking places. New garages may also appear under Tylovo square and Jiraskovo square. Another option is Ostrcilovo namesti with an underground garage as well as an overground garage between the pillars of Nusle Bridge.
Related Articles
Time Navigation
Newer articles:
Older articles: