Since 17.9.2007 there is going to be a facsimile of Virgin Mary from Aparecida with our Prague famous Infant Jesus. The statue of the holy patron of Brazil, which only facsimile in Europe is in Portugal, is going to stand by Infant Jesus side.
The facsimile was manufactured after activity of Brazilian ambassador, mr. Affonso Massot, after his visit of São Paulo last year. His desire to place Virgin Mary from Aparecida into the Church of our Lady Victorious in Prague was influenced by the fact the church is visited by thousands of Brazilians and catholics form all around the world.
!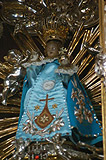 And what is the story of the original Virgin Mary from Aparecida? According to the legend, in Brazil 1717, the starving fisherman in the time of poor fishery pulled up the net with a headless statue. When they threw the net for the second time, they found a little head. When they put the statue together, they found out it is the Virgin Mary. When They pulled the net for the third time, it was full of fish.
Time Navigation
Newer articles:
Older articles: