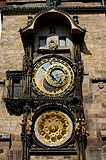 Staromestsky Orloj (The Old Town Square Astronomical clock), that is one of the greatest sights of our metropolis, admired by millions of tourists every year, has a serious problem – the walls of the ground floor are growing steadily wet, independently of rain.
The Prague Office and The National Institute for Heritage Preservation are struggling for months to find out whether the rising humidity interrelates with increasingly frequent malfunctions of the clockwork.
The ground floor walls of Staromestsky Orloj, 600 years old clock, didn't grow wet until quite recently. Why? That's a mystery even for Otakar Zamecnik, the Prague 'orlojnik' (the Astronomical clock specialist who inherits the function from his father, which has been going on for centuries now) who comes to control the Astronomical clock every week. "The dust from the falling plaster rises up, and when it reacts with bearings oil, they can stuck. The clockwork can stop, and that foretells no good" (last time it stopped in 2002, and devastating floods inundated Prague afterwards)
The National Institute for Heritage Preservation took samples of its plaster and they hope laboratory tests would relieve the mystery. According to a legend, when the Orloj stops, there are bad times coming to Bohemia.
What was the reason? Read on.
Time Navigation
Newer articles:
Older articles: