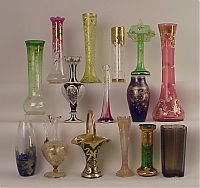 The exhibition of the 150th anniversary of the Moser foundation is held in Prague at the Museum of Applied Arts from September 13th till November 18th 2007.
Moser presents its production from the last decade, including the anniversary collection. The basis of the exhibition consists of traditional drinking sets which, thanks to their elegant style and perfect shape, decorate elite festive tables.
The important part of the exhibition are vases, decorated with elaborately executed engravings, often inspired by artworks of world painting.
Comments
Líetéty said,

This Site gávé me good srtéth.
Time Navigation
Newer articles:
Older articles: