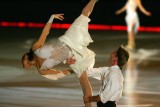 Christmas is connected to snow and ice, and this can be a chance to enjoy Christmas symbolism in a very esthetic way. The numerous ensemble is led by Katarina Witt.
Katarina Witt is a German figure skater, has two Olympic gold medals and recieved Emmy Award for her role in a movie.
Her famous guest would be Jozef Sabovcik. He won European Championship once and has a bronze medal from Sarajevo Olympic Games. He is great at rock&roll and at very high jumps. He has lived in USA for 20 years now, but he is originaly from Czechoslovakia.
They will present their solo programmes, enriched by special figures. Supposed to create two hours of fun for the whole family.
If you want to see this spectacle come to T-Mobile Arena on 18th December. Tickets are available in Ticketpro chain outlets and they cost from 295 CZK to 1195 CZK (9,8 – 39,8 €).
For the complete info click here
Related Articles
Time Navigation
Newer articles:
Older articles: