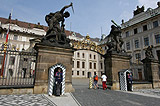 The exhibition and book trilogy Prague Castle in Photography is concluded by a part showing changes of the siege in years 1939-1989.
Historic and topographic signs have the upper hand over the whole conception of this exhibition. The photos are not sequenced according to beauty, but the groups are formed according to the inner logic of the castle area. The only exception is the 'personalities' group, which brings in portraits of politicians and architects of the famous Gothic castle.
As the past two episodes of the cycle could be called romantic or calm, this episode commemorates especially the dark times, for example it depicts Emil Hacha, the Czechoslovak president, surrounded by Nazi soldiers, getting his new BMW given by Adolph Hitler.
The book ends symbolically; by the classic picture of Vaclav Havel on 29th November 1989, after being elected a president. But this is not the case of all's well that ends well; Prague castle is too much permeated by history for such a conclusion.
7th January (Three wise man day) 2008 ends this exhibition, but the book trilogy accompanying the event stays for those who bought it, and gains its documentary value. The exhibition takes place in Prague Castle, Terezianske Kridlo (Terezian Wing).
Prague Wenceslas Square exhibition [October 13 2008, 15:49 PM]
Unique Documentary of August 68 Russian Invasion to Prague [August 15 2008, 15:52 PM]
Czech Pes Foto – Dog Photography with an attitude [July 30 2008, 11:38 AM]
Exhibition of Various Faces of the Metropolis [July 25 2008, 08:31 AM]
ALIVE Animal photos Exhibition in the centre of Prague [June 13 2008, 15:51 PM]
Prague of Many Faces – Photographs exhibition at Prague Castle [May 15 2008, 15:34 PM]
Gregory Crewdson photo exhibition [March 11 2008, 15:56 PM]
Half a century of the Prague Castle photography exhibition [November 16 2007, 18:24 PM]
Jindrich Streit Black and White photography exhibition Prague [November 15 2007, 09:02 AM]
Czech Press Photo awards 2007 [October 18 2007, 12:00 PM]
Explosive Roman Signer and his Travel Pictures in Prague [September 20 2007, 16:00 PM]
World Press Photo 2006 in Karolinum [September 14 2007, 16:02 PM]
Prague hosts World Press Photo 2007 [September 13 2007, 14:38 PM]
Kolbaba's exhibition at Prague Airport prolonged [August 31 2007, 15:06 PM]
Prague Castle in Photographs 1939 - 1989 [August 23 2007, 09:22 AM]
Gallery in the train comes to an end [August 16 2007, 14:51 PM]
Look animals in the eyes - exhibition in Prague [August 15 2007, 09:55 AM]
'The Roof of Africa' in Prague's New Town Hall [August 13 2007, 11:39 AM]
Large photographs of gardens of the world in Prague [August 8 2007, 14:41 PM]
The Magic of Eastern Africa in Prague [July 31 2007, 13:10 PM]
Sport Photo 2007 in Prague [July 24 2007, 16:46 PM]
Exhibition of photographs in the Old Town Bridge Tower in Prague [July 17 2007, 15:33 PM]
Drawn By Light exhibition in Vysehrad Gallery in Prague [July 11 2007, 13:05 PM]
Maximum Photography in the gardens of Prague Castle [June 26 2007, 15:09 PM]
Photographs with a flavour of faraway countries [June 20 2007, 09:46 AM]
Time Navigation
Newer articles:
Older articles: