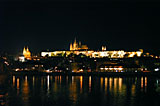 Recently published analysis of regional differences in the Czech Republic revealed an interesting fact – Prague is, year by year, more different from the rest of the country. The numbers are so different, they have to be filed separately, as it would blur the republic average.
For example – Prague citizens have the most advanced cars from the whole country, every second household is connected to the Internet and one third of citizens of Prague have finished higher or university education.
Ales Michl, analyst of Raiffeisenbank stated:
"Prague is unique compared to other metropolises, located east from Prague – i.e. Bratislava or Budapest. There, the differences among the capital and the rest of the country aren't so noticeable. Prague is so much more like Paris, London of Frankfurt."
The metropolis is first also in the quality and availability of health care, so here is 15,7 percent of seniors older 65 years, meanwhile the republic average is 14,4 percent. Prague has population of 1,198,094. The numbers of Prague citizens are getting higher every year, and more than 70% of newcomers are Ukrainians, Russians and Vietnamese. Those cover some of the low paid jobs, but surprisingly there is still over-supply of such positions.
Concerning salaries; the average is 26 134 CZK (933€), which can sound meager compared to the average in i.e Britain (2931€), but the salary in Prague is still about 5196 CZK (179€) higher than the national average.
Related Articles
Comments
Dave said,

Thats not really good is it? The goverment should focus on inproving other sections of the Czech Republic because they are becoming bad, for example the village of Duba near Ceska Lipa, in the past years its shops have closed ( and so has its hotel slavie) and the younger population works in prague it will become a ghost town soon…..
Time Navigation
Newer articles:
Older articles: