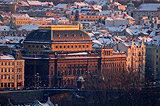 The National Theatre has started its three-year reconstruction, which costs are estimated 160 millions CZK (5,5 mil. €)
The first item on the list of reconstructions is the 10-ton, 78 meters long cast-iron railing, that represents a golden crown on the top of the historic building. All the parts of the railing are going to be gilded again with two kilos of the best quality gold, worth 70 thousands €.
Two other symbols of the theatre, sculptural groups of prancing horses are undergoing reconstruction on the roof, where it was in 1940 fixed with concrete. There is a problem with water running into the sculptures.
Expenses for those items are estimated 22 millions CZK (760 000€). The facade reconstruction of National Theatre starts in 2009, conservators have both hands full of work inside, too.
Time Navigation
Newer articles:
Older articles: