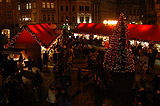 This Saturday eventing those forty thousands light bulbs on the Old Town square Christmas tree are going to be lighted up, and Christmas markets of this Noel begins.
Marry Drunk Christmas at the Old Town Square "Compared to the previous years there are going to be more stances with refreshments", said the leading organizer of Tamiko company. "The decorations are going to include four 7-meters tall laser light angels, placed at the corners of the market place."
Isn't it just great – the right Christmas spirit needs those stances offering mull, after which crowds of drunken tourists are going to potter around! And what would be Christmas without laser angels. What is going to be there the next year? Mull tanks and laser Baby Jesus getting out of a laser comet? Marry Christmas!
The oldest tram in Prague is one hundred years old [February 29 2008, 10:08 AM]
Letters for Baby Jesus in Czech Republic [December 19 2007, 18:10 PM]
Christmas Markets in Prague Begins [November 29 2007, 11:55 AM]
Testing the Sirens [October 3 2007, 15:59 PM]
May 1st – an unordinary day in Prague [May 1 2007, 09:37 AM]
The Burning of the Witches in Prague [April 30 2007, 11:26 AM]
Brevnov fair starts [October 6 2006, 13:57 PM]
International Folklore Fair 2006 [August 29 2006, 14:14 PM]
Traditional Troja Fair in the botanical garden [August 9 2006, 13:11 PM]
New attraction at the Prague Castle [July 28 2006, 10:15 AM]
Sokols are in Prague [July 5 2006, 08:47 AM]
Great brass band festival in Sazka Arena [June 22 2006, 15:45 PM]
A tramp Prague-Prcice has 18.000 walkers [May 22 2006, 14:04 PM]
Folk dancers at Old Town Square [May 12 2006, 20:33 PM]
"Burn her, she's a witch!" [April 28 2006, 13:00 PM]
Easter traditons from view of female foreigner [April 18 2006, 18:31 PM]
Happy Easter! [April 14 2006, 14:20 PM]
Biggest Sokol physical training in Prague [April 7 2006, 11:03 AM]
Comments
Author said,

OK, I went to see it and those angels aren't really made by laser, they are from many light bulbs. But still…
Time Navigation
Newer articles:
Older articles: