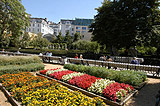 Which flowers were grown by our ancestors? Some light into the matter sheds the exhibition of Prague historical gardens.
What is to be seen there? Maps, pictures or drawings from those almost three hundred historic gardens, which were/are on the maps of Prague.
Visitors will learn not just the fate of the historical gardens, but also the fate of their creators and about interesting plants which grow there.
The oldest garden of Prague is the one close to Saint Jiri temple in the area of Prague Castle. Since 10th century there was a garden with healing plants and flowers for decoration of the Church.
Most of Prague gardens date its origin in Early Middle Ages. The gardens were established by monasteries, and they served mostly for embellishment of the surroundings.
The Exhibition takes place in 'Architect Hall' of the Old Town square City Hall, since 5th December, until 16th March 2008. Everyday 9 – 18, Mo 11-18.
Comments
jim said,

My friend who works as a florist in East Bremerton has been saving up to visit there, he's so excited.
Time Navigation
Newer articles:
Older articles: