Little Quarter is a special part of Prague it surrounds Prague Castle and it is rich in baroque and renaissance architecture. One of streets there, is the most narrow street in Prague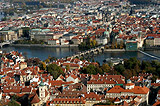 It is so narrow there must be traffic lights in order people wouldn't collide – maybe two dogs could sidetrack, but they have to be very small dogs. If you are square-shouldered or well.. fat, you shouldn't enter the street at all – you can get struck.
It is steep, full of stairs, doesn't have a name, but have two traffic lights. It goes from U Luzickeho seminare street to the Certovka restaurant, offering spectacular view of Charles Bridge.
Most of the tourists see the street as an attraction, so they push the walk button, take a few pictures and when they go, they don't take the light seriously, so in the end they push with somebody so close only lovers usually do that.
"One time, one really corpulent German tourist got stuck" remembers the owner of Certovka Restaurant. "She couldn't go up or down. The personnel tried to push her back to the street , but in vain. In the end we had to soap her, so she would slide more easily. She just had to go somewhere else for her lunch." He smiles. Source: MF Dnes
Vaclav Klaus sometimes replaced by Vaclav Havel for Czech Chairmanship. [January 7 2009, 11:28 AM]
Prague Zoo Keeper lost his bet with Gorilla, he lost less pounds [December 5 2008, 13:40 PM]
Czech Etymologist escaped from India custody [October 27 2008, 12:36 PM]
Man Wanted to Smuggle Grass-snake in His Underwear [June 17 2008, 08:56 AM]
Prague Bank Robbed with Plasticine [June 12 2008, 13:57 PM]
Husband and Wife driving car: His Blood alcohol concentration 2%, his wife 5% [June 6 2008, 10:00 AM]
And that's why ... you don't sleep with the first guy you meet in Prague [May 26 2008, 13:55 PM]
If You are the Czech Prime Minister, than I am the Pope [April 21 2008, 09:55 AM]
Installing a Living Room in Prague Metro [April 16 2008, 18:02 PM]
Power shovel dug out Fox cubs in Prague [April 2 2008, 16:05 PM]
Ztohoven Art Group Trial Started [March 25 2008, 15:47 PM]
Bakers run from controllors [March 17 2008, 11:02 AM]
Five-year old boy crashed his car [February 28 2008, 17:44 PM]
A Snake Took A Shelter in A Czech Police Car for A Month [February 20 2008, 17:52 PM]
Czech Scientists at Antarctica found and eaten 50-years-old soup [February 5 2008, 17:51 PM]
The Shortest Prison Sentence in History [January 31 2008, 13:34 PM]
Why do the Poles like Jozin z Bazin / Józek z bagien [January 25 2008, 18:02 PM]
Józek z bagien – 30 years old Czech hit loved by the Poles [January 16 2008, 13:45 PM]
Czechs Won a Prize for a Very Curious Death. [January 2 2008, 11:54 AM]
Czech Hearse driver caught with 3,58% of Alcohol [December 21 2007, 13:02 PM]
The Narrowest Street in Prague is Equipped With Traffic Lights [December 20 2007, 14:10 PM]
Famous Czech self-murderer shocked America [December 6 2007, 14:02 PM]
Dog Restaurant in Czech Republic [October 31 2007, 10:52 AM]
What does the Lost Property Office in Prague hold? [August 20 2007, 15:58 PM]
From Prague to Karlstejn by metro?! [June 25 2007, 16:57 PM]
Time Navigation
Newer articles:
Older articles: