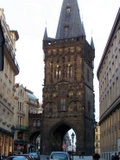 Hora Svate Kateriny (Mountain of St. Catarina) wants to became a new part of Prague. The only problem is, that it lies 120 km from the metropolis.
According to the councilmen from Svata Katerina this is the only way, how to get money for maintainable life; "Hora Svate Kateriny gets 8600 CZK (307 €) for one its citizen, meanwhile in Prague the appropriation is 17 000 CZK (607 €) per year. With such a budget, we are not able to keep the willage in the state the law oreders us to."
The advocate Pavel Marecek stated, it is not possible according to the law, as the two municipalities are not neighbours. But the councilmen from Svata Katerina already know that and are appealing for the law change.
Related Articles
Time Navigation
Newer articles:
Older articles: