"It is time to unblock our political scene" says Jan Svejnar for Alexander Kramer, Pravo 22-12-2007. We give you the shortened English version here. Who is Svejnar?
Mr. Professor, when you say you'll bring Vaclav Klaus down, don't you just give us that 'American' strong rhetoric?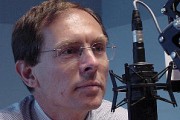 It is not just rhetoric, I believe myself – I have a strong support of the CSSD, SZ and two senate clubs. And I suppose the trend in will grow.
It seems the votes of the communist party will be the decisive ones. Do you think you get them?
At least I think I represent for them the 'lesser evil'. I have a deeply social feeling. The basic difference between me and Vaclav Klaus is I say there are things that the market can't do, and for social wealth it is necessary to support the market with suitable state solutions.
Communists definitely don't like you for the Radar…
Vaclav Klaus is for the radar too! But Klaus sees it as a part of our relationship with the USA, meanwhile I see it as a part of NATO and EU inter-relations.
You have said: "To win over Vaclav Klaus is in the interest of the Czech Republic". Why?
OK, I'll come back to what I've already said: we live in the fast-globalizing world, in more and more competitive environment. The best strategy, how to further our interests, is to actively participate on all the actions which are in progress now. And what is Klaus' relation to the EU, is well-known.
Does Vaclav Klaus harm the reputation of the Czech Republic?
I'll leave this on you and your readers. But if you look at how his various statements are commented in the world, the answer suggests itself.
Are you for or against Prague Olympics?
Only in the case we could organize it in a way it wouldn't be a financial loss. If we couldn't, we should postpone the candidacy.
Tolerance of people who believe or don't believe in God is apparent in civilized countries. Are you an atheist, who tolerates believers, or vice versa?
I'm somewhere in the middle. That means – I'm an agnostic – a person, who on question, whether God exists or not, answers: I don't know.
Why do you want to become the president, Mr professor?
In America, people are educated in a way to believe in ideals and service for the community is regarded as something that deserves respect. Definitely there is also personal satisfaction that a good job gives to a man.
Does the presidential post have something magical inside for you?
Yes, I can't deny that. But still, in some phases of my life, I would have to turn the offer down. Now I am in a situation that I can afford that and at the same time I think I am able to do good for the Czech Republic.
Comments
Tanja said,

It seems like Svejnar may have a chance to win after all! He claims that Klaus is not liked by the EU…well, he is well-liked here, in the US!
Great article I think I am going to link it to my post!
Time Navigation
Newer articles:
Older articles: