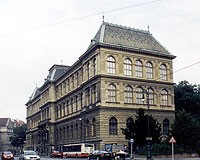 The Museum of Decorative Arts is located in the Jewish Quarters of Prague. The setting cannot be more perfect – the most beautiful buildings of Prague are in the Old town. The building itself was finished in 19th Century in neo-renaissance style, which by its rich design fulfills representative demands. Its decorated ceilings and historic furniture makes impression the place matters.
The second floor features permanent exhibitions. Rich and wide selection of exhibits from the late antiquity till the present day. There are: The Story of Fibre – The Textiles and Fashion Gallery; Print & Image – The Applied Graphic Arts and Photography Gallery; Born in Fire – The Glass and Ceramics Gallery; Treasury – The Metals and Miscellaneous Materials Gallery; Time Machines – The Clocks and Watches Gallery and also a newly exhibited tapestry called "A Side View", created by the Moravian Tapestry Workshop.
Complete information on Museum of Decorative Arts in Prague / Uměleckoprůmyslové museum v Praze in English here
Comments
Fred said,

The old town of Prague is a picturesque place with beautiful buildings. The museum itself looks like a historic structure. The Decorative Arts are incredible here.
Time Navigation
Newer articles:
Older articles: