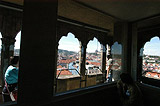 Into the historic sights, which are governed by the Prague Information Service (PIS), were visited by 18 % more visitors than in the year 2006. That makes the total of sightseers 1,3 million people.
The speaker of PIS Dagmar Holubova informed: "There were definitely more visitors of sights, more tourists came to our information centers, but we also got more hits of our web pages (www.pis.cz) – 3,85 million.
The largest interest from Prague Sights arouses traditionally Old Town City Hall at Old Town Square, which attracted 432 500 visitors last year.
Related Articles
Time Navigation
Newer articles:
Older articles: