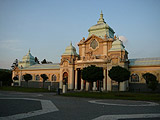 Although each international book fair is unique, all book fairs aim to create a climate for successful business negotiations between exhibitors and visitors. Book fairs draw attention to new releases by publishers and booksellers, and they showcase companies and institutions active in the book market and culture. Like other international trade fairs, Bookworld Prague balances commercial and educational goals.
The first day of the fair is reserved exclusively for trade professionals and members of the press the organizers focus on attracting as many booksellers, librarians, information professionals, literary agents, and representatives of publishers and printers as possible.
Bookworld Prague features numerous programmes for visitors: professional seminars and conferences, meetings with writers, author readings, presentations by publishers, and awards ceremonies for outstanding publishing and creative achievements.
On the humorous note, the Translators Guild presents the annual Rack Anti – award – a prize for the worst translation of a foreign work into Czech.
Bookworld in Prague 2008 – 14 th International Book Fair, 24th – 27th April 2008, At the Industrial Palace Prague – Holesovice Exhibition Grounds.
Prague Wine Week festival started yesterday [January 13 2009, 10:06 AM]
Czech Christmas Eve [December 23 2008, 13:33 PM]
Christmas in Prague – Selected Events [November 27 2008, 13:44 PM]
The Christmas tree arrived to Old Town Square in Prague [November 26 2008, 09:45 AM]
Czech Military parade on 28th October [October 23 2008, 15:49 PM]
Comics master of underground perversion Crumb in Prague [October 7 2008, 15:24 PM]
Prague celebrations in Historical way – mead, lutes [September 30 2008, 11:49 AM]
Strings of Autumn – Music festival in Prague comes nearer [September 26 2008, 11:51 AM]
Tip for your day – Letni Letna Festival in Prague [August 26 2008, 08:08 AM]
The Best Circus in Prague Starts today [August 20 2008, 15:39 PM]
Prague prepares for its first festival of graffiti and street art [August 12 2008, 09:51 AM]
Summer of Love Dance Music festival [August 6 2008, 17:55 PM]
Three day festival of street theatre Started [July 17 2008, 17:45 PM]
Jugglig Festival in Prague [July 7 2008, 08:54 AM]
The Street Art Festival of Prague [July 3 2008, 11:52 AM]
The jubilee 15th Year of Mystic Sk8 Cup in Prague [July 1 2008, 17:42 PM]
Prague Beer Days this Week Already [May 26 2008, 11:49 AM]
Jizni Mesto of Prague Street Art Festival [May 15 2008, 13:48 PM]
United Islands of Prague [May 14 2008, 13:55 PM]
The Marionette Festival Prague [May 13 2008, 11:55 AM]
Bohemian Carnevale in Prague [January 28 2008, 14:05 PM]
Zizkov Carnival – Zizkovsky Masopust [January 22 2008, 13:55 PM]
Prague International Book Fair [January 21 2008, 09:39 AM]
Marriage Festival at Prague Vystaviste [January 11 2008, 15:45 PM]
Prague Mayor lighting up the Christmas tree [December 3 2007, 12:03 PM]
Time Navigation
Newer articles:
Older articles: