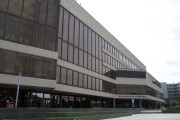 The Building is probably going to undergo another reconstruction again. Even when there were large innovations eight years ago, 'Palace of Culture' or Prague Congress Centre should be improved again.
The major event on the spot was the IMF and the World Bank Summit in 2002. Back there the modifications took place at the side close to Vysehrad, with new buildings containing places for multiple use, including cultural gatherings and administrative premises.
Now the managers speculate they would need more space for accompanying exhibitions. It would mean 'moving' of one of its sides forward. The new design wants to look like nothing has changed. And why do they need a space for exhibitions? They want to attract really big congresses to Prague. Reason?
Tomio Okamura, the speaker of the Association of travel bureaus and agencies affirms a common tourist spends 2800 CZK ( 100 €)a day (for everything) in Prague, but a congress tourist about two times more.
Planned Skyscrapers at Pankrac again centre of dispute [January 22 2009, 09:50 AM]
The Wing of Palace at Prague Exhibition Ground is Back [January 20 2009, 17:38 PM]
Prague Refuses to penalise itself for Charles Bridge Repair [December 30 2008, 15:58 PM]
Prague Industrial Palace Fire Source? Still Unknown [December 10 2008, 13:41 PM]
How to repair Charles Bridge [December 2 2008, 13:38 PM]
Prague Industrial Palace Plans lost & found [November 26 2008, 17:34 PM]
The Charles Bridge dispute goes to Court [November 21 2008, 09:32 AM]
Prague Houses by Incomers, Imported Architecture [November 19 2008, 11:55 AM]
Prague National theatre Celebrates 125 years from its re-opening [November 18 2008, 17:46 PM]
Representatives of no-close-narodni-metro-station petition met politicians. [October 16 2008, 13:32 PM]
Czech National Building in New York re-opens [October 16 2008, 09:47 AM]
Seaworld at letna finally denited! [October 10 2008, 11:56 AM]
New Space Lagoon in Prague Seaworld [October 8 2008, 15:35 PM]
Prague court came between developer and Pankrac [September 8 2008, 13:45 PM]
Tesla Arena: The New Name of T-Mobile arena [September 5 2008, 13:34 PM]
Pankrac Skyscrapers are going to be there [August 15 2008, 11:26 AM]
UNESCO: Prague shouldn't build skyscrapers taller 70m [August 14 2008, 11:50 AM]
Brothels in Prague are Camouflaged. They have to be. [July 29 2008, 11:59 AM]
Zizkov transmitter prepares for its 'air show' [June 19 2008, 15:36 PM]
Prague Main Bus Station Florenc Reconstruction [June 18 2008, 11:49 AM]
It's decided: The new post-modern skyscrapers will be build in Prague [June 17 2008, 13:49 PM]
Will Old Town Square Get a new Building? [February 21 2008, 17:55 PM]
Second Big Reconstruction of Prague Congress Centre at hand [January 22 2008, 11:36 AM]
Charles Bridge statues Cleanup [January 14 2008, 09:40 AM]
Project of Letna Ocenaium Underwater World in Prague moved or ended [December 5 2007, 18:25 PM]
Time Navigation
Newer articles:
Older articles: