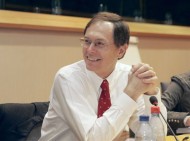 Ian Willoughby from Radio Praha had a chance to make an interview with Jan Svejnar recently. We bring you the shortened version.
What do you have to offer that the incumbent Vaclav Klaus doesn't have to offer?
"Well, there is the fact that I am above politic parties. The president here should be politically independent. I am. I have both the local and the international experience, and obviously in the world of globalisation broad international experience is important.
"I am looking more forward than backward. I pretty much do hold strong views that are aligned with those of the Western world, be it in the area of global warming, or the active role that the Czech Republic can play in the EU. So there are major differences."
Given yours relative outsider status – and Mr Klaus's ultimate insider status – isn't it a disadvantage for Jan Svejnar that when it comes to horse-trading for votes, he simply has less to offer?
"You're right, I'm not offering that. I'm offering vision, I'm offering my skills, my expertise. I believe that the parties that are supporting me – and that's my advantage, I'm supported by a significant part of the political spectrum, from the left to the right – will do whatever is needed in good old politics, where I have no comparative advantage whatsoever. I'm focusing really on ideas, and where the country should go."
All things considered, how does the candidate himself rate his chances?
"One has to take the dynamics into account. When I started a couple of months ago I was obviously the outsider both in opinion polls and among the members of Parliament who are going to vote. Now I am the one who is if anything ahead in the opinion polls. Many people in Parliament are seriously considering voting for me, so I think that the chances now are about fifty-fifty."
The original article is here
ODS Congress – Go on Without Klaus, Bem [December 8 2008, 09:24 AM]
ODS elects the new leader today [December 5 2008, 09:38 AM]
Topolanek – Bem 7:0 in the half-time [December 1 2008, 13:32 PM]
The Communist Party returns to Power. Slowly, steadily. [November 14 2008, 15:06 PM]
Bem to became the new leader of ODS? [October 29 2008, 12:39 PM]
Senate elections in CR – Again, CSSD won [October 27 2008, 08:43 AM]
Reasons why ODS lost the regional elections [October 21 2008, 13:13 PM]
Topolanek taking Fire [October 21 2008, 11:41 AM]
Is Bem going to Big league politics? [October 20 2008, 11:50 AM]
CSSD Crushing win in Regional Elections [October 20 2008, 09:38 AM]
Local Government Election in CR: Even [October 13 2008, 09:49 AM]
The winning leader of the Greens is Bursik [September 8 2008, 11:54 AM]
Congress of the Czech Greens started [September 5 2008, 16:54 PM]
The new Leader of Czech Greens will be Who? [September 4 2008, 13:41 PM]
Pool: If elections were now, CSSD would win [June 10 2008, 17:25 PM]
Havel appealed to Prague: Do not vote for ODS [June 2 2008, 09:58 AM]
Vaclav Klaus - The Winner of Discreditable Elections [February 19 2008, 14:36 PM]
Vaclav Klaus re-elected president of the Czech Republic [February 18 2008, 17:46 PM]
2nd Round of Elections; Who will be the next Czech President? [February 15 2008, 10:54 AM]
Presidential Elections and Role of Communists [February 12 2008, 16:09 PM]
1st Round of CR Presidential Elections: Klaus was close [February 11 2008, 08:38 AM]
1st Round of Czech Presidential elections tomorrow [February 7 2008, 18:00 PM]
Svejnar: I am ahead in opinion polls [February 6 2008, 13:38 PM]
Czech Republic Presidential Elections in four days [February 4 2008, 09:55 AM]
The first Klaus vs Svejnar duel [January 30 2008, 17:06 PM]
Time Navigation
Newer articles:
Older articles: