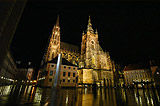 Prague was visited by more than four million foreign tourists in 07, which puts it into 'TOP 5' of Europe. The travellers' web TripAdvisor.com made a research, which outcome revealed New York, Paris and London with more than 200 000 votes proved they really form the world's most tourist – famous places.
Prague got more votes than Florence, Madrid, Vienna, Budapest or Krakow. Tourists positively evaluated Prague cultural and nature sights, quality of accommodation and other services, prices or native citizen behaviour.
What the tourists have evaluated negatively? Especially rip-offs at money exchanges (calculate, how much you should get, before you hand the money over! If you see you pay way too much, chancel the trade and find another place!) and other rip-offs at taxis ( how to avoid?) or souvenir sellers (do you really need that many souvenirs anyway?)
Prague with its 4 millions tourists/year got in the first five of Europe. The most visited is London with its 14 millions, Paris with 10 millions and Roma with 6 millions.
Related Articles
Time Navigation
Newer articles:
Older articles: