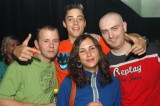 If you have a look at the server Youtube, you will see how Prague welcomes its visitors – it is almost morning, but the walls of the hotel room are shaking; at the door, there is a pile of beer and vodka and vine and whatever bottles. How did they got there? A group of grammar-school students went for a trip to Prague.
According the immediate impression of Prague, which one can get on Youtube, there is no better and cheaper place to get drunk. "Only the fittest can survive" states the introduction of the drinking videos of German students.
According to Prague Information Service, 63% of tourists look for information on the Internet. If you stay tuned on Youtube, you will, in few minutes, see many drunks and prostitutes, roaming Prague. I just want to add: the experience may differ. Everyone gets what he wants. Prague is not a city inhabited solely by drunks and prostitutes!
Continue to youtube here . Based on: MF Dnes
Related Articles
Comments
Tanja said,

The common tourist phrase "Beer is so cheap in Prague!" is getting a bit old, indeed. Although now that the American dollar is worth about 16 crowns I am not sure we will be hearing those words as much…
Time Navigation
Newer articles:
Older articles: