The state and the capital city of Prague is looking for a way, how to prevent Blob library from being build. The main anti-Blob activities can be tracked down to the President Klaus and so the ODS, the pro-Blob site is represented by a large part of the general public and The International Union of Architects which pronounced Kaplicky's Blob the winner of a regular international contest.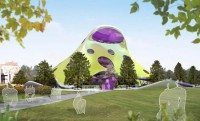 Hospodarske noviny informed the anti-monopoly office manager Martin Pecina stated "Everyone would like me to forbid it. But I am not eager to." The ministry of culture (now under the KDU-CSL which is in coalition with the ODS) started to create pressure on him after lawyers were not able to prove the international contest was irregular.
The opposers of Kaplicky's Blob now came with a new strategy – when they weren't able to degrade the international contest, they now try to prove there shouldn't have been an international contest in the first place.
The actual practice of the European Union however speaks for the benefit of Kaplicky's Octopus, as the EU commission have never intervened into the principle of an international architectonic contest. Such contest decided e.g. about the shape of the central building of NATO. Are we going to see an European court proceedings Klaus + his government coalition vs Kaplicky + democratic principles? Probably…
Time Navigation
Newer articles:
Older articles: