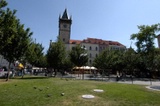 Husty provoz (Dense Traffic) tries to close to the alternative art scene, where are many significant curator characters present, those who managed to hold our interest by their projects, often realized on the DIY basis (do-it-yourself), without financial support, advertisement or sponsorship. Their artistic activities reflect one of the characteristic trends of the present – interdisciplinarity.
The first we would like to present you is the Guma Guar project. It is an art-activist group based in Prague. Since their foundation in 2003 they deal with critique of the system and ironizing of the media world. They produce artpieces, experimental electronic music, they participate at freeparties, create streetart realizations.
The Exhibition takes place until 6th June. The non-conformist, free young art exhibition takes place in Prague, Old City hall at the Old Town Square.
Time Navigation
Newer articles:
Older articles: