The Marionette Festival presents puppet theatres from tents of countries. The 20th annual year of the festival is organized under the lead and patronage of the city of Prague and the city part of Prague 1. The International Institute of Marionette of Art Mgr. Todor Ristic, President of Festival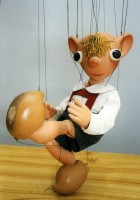 Among more than three tens of puppet companies, there will be puppeteers from Thailand, China, the Netherlands, Belgium, Brazil and Iran. Many of their representative institutions have provided patronage for the project.
The performances will be initiated in the Mestska Knihovna (City Library) by a puppet show from Bangkok, also supplemented by screenings of puppet films (from the Czech Republic it will be Jiri Trnka fairy-tales.
The performances (up to seven a day) will be taking place in Kinsky Palace on the Old Town Square, where the institute resides, and also in Divadelko Karlova 44.
Shorter pieces will be possible to see directly on the Old Town Square.
Prague Wine Week festival started yesterday [January 13 2009, 10:06 AM]
Czech Christmas Eve [December 23 2008, 13:33 PM]
Christmas in Prague – Selected Events [November 27 2008, 13:44 PM]
The Christmas tree arrived to Old Town Square in Prague [November 26 2008, 09:45 AM]
Czech Military parade on 28th October [October 23 2008, 15:49 PM]
Comics master of underground perversion Crumb in Prague [October 7 2008, 15:24 PM]
Prague celebrations in Historical way – mead, lutes [September 30 2008, 11:49 AM]
Strings of Autumn – Music festival in Prague comes nearer [September 26 2008, 11:51 AM]
Tip for your day – Letni Letna Festival in Prague [August 26 2008, 08:08 AM]
The Best Circus in Prague Starts today [August 20 2008, 15:39 PM]
Prague prepares for its first festival of graffiti and street art [August 12 2008, 09:51 AM]
Summer of Love Dance Music festival [August 6 2008, 17:55 PM]
Three day festival of street theatre Started [July 17 2008, 17:45 PM]
Jugglig Festival in Prague [July 7 2008, 08:54 AM]
The Street Art Festival of Prague [July 3 2008, 11:52 AM]
The jubilee 15th Year of Mystic Sk8 Cup in Prague [July 1 2008, 17:42 PM]
Prague Beer Days this Week Already [May 26 2008, 11:49 AM]
Jizni Mesto of Prague Street Art Festival [May 15 2008, 13:48 PM]
United Islands of Prague [May 14 2008, 13:55 PM]
The Marionette Festival Prague [May 13 2008, 11:55 AM]
Bohemian Carnevale in Prague [January 28 2008, 14:05 PM]
Zizkov Carnival – Zizkovsky Masopust [January 22 2008, 13:55 PM]
Prague International Book Fair [January 21 2008, 09:39 AM]
Marriage Festival at Prague Vystaviste [January 11 2008, 15:45 PM]
Prague Mayor lighting up the Christmas tree [December 3 2007, 12:03 PM]
Time Navigation
Newer articles:
Older articles: