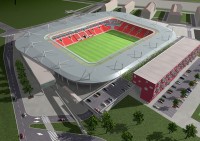 The new era of Slavia Prague at the new stadium in Eden started. Their fans have entered the world of luxury and comfort. For this, the opening of the new Slavia stadium is one of the biggest events of this year.
The Stadium grown up in 19 months, the costs were reputedly 40 mil €. The luxury, which was until now provided only for hockey fans in O2 Arena, is finally possible for football fans too.
If the fans of Slavia spend last years going to impersonal Strahov, this is a similar change like to change a Skoda Favorit from 1990 for a shiny limousine. The Slavia stadium of 'English' style is unique in the CR by its philosophy. Openness and Friendliness.
Related Articles
Time Navigation
Newer articles:
Older articles: