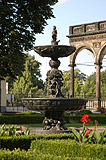 Today, the first time in the history, Velka Fürstenberska Zahrada (The Great Fürstenberg Garden) will be opened to the general public.
Palace gardens, situated on the slopes under the Prague Castle towards Mala Strana (Lesser Quarter) will grow of more territories. To the complex of Five Castle Gardens (all belong to the state), will accede Velka Fürstenberska Zahrada, which extensive reconstruction finished by the Capital City of Prague. The plan is to connect all the Castle gardens together, so tourists and Prague citizens could go freely from one to another.
To revive and repair the garden took about a year and a half. During that time the sightseeing pavilion was repaired, planned to become a social facility and a restaurant. Gardeners planted a few thousand flowers, trees and over two thousands roses. The entrance to the garden is from its higher part, from the Old Castle stairs.
Weather is nice... which Prague park is worth relaxing? [June 18 2008, 08:08 AM]
Prague Baroque Jewel to Open for People [May 16 2008, 17:15 PM]
Zimbambwian sculptor in action in Prague [August 23 2007, 14:41 PM]
Fata Morgana greenhouse will be closed for 12 days [August 16 2007, 13:14 PM]
Unique exhibition of lilies in Prague Botanical Garden [July 2 2007, 16:48 PM]
Japanese bonsai in the Prague Botanical Garden [May 7 2007, 16:05 PM]
Exhibition of exotic butterflies in Prague's Botanical Garden [April 3 2007, 13:56 PM]
'The wood of deserts' exhibition in Prague Botanical Garden [March 9 2007, 16:00 PM]
Fata Morgana is closed this week [February 26 2007, 09:49 AM]
Palm Days in Prague's Botanical Garden [January 23 2007, 14:50 PM]
Exotic fruits and carnival costumes in Prague Botanical Garden [December 5 2006, 11:45 AM]
Gingerbread Days exhibition [November 24 2006, 12:56 PM]
Time Navigation
Newer articles:
Older articles: