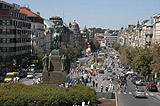 The report of Deloitte company expects the toll could be established starting December of the next year. From the analysis it is also clear the most useful system is the camera one, and that toll will be applied, in the first phase, at 8,5 square kilometre.
Toll should be, according to Deloitte, collected approximately from Smichov to the expressway, it should than be extended to other areas, too. In 2012, the drivers could pay in area of 50 square kilometers. The company has also worked out a harmonogram of dispositions, the pilot program would be initiated in the last month of the next year.
The camera system is, compared to the microwave or satellite one, much cheaper and effective. Plus the pictures can be also used for recovery of a sum. The locals should pay nothing, or very little.
Related Articles
Time Navigation
Newer articles:
Older articles: