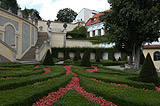 So which of Prague parks are the best? There is Stromovka – huge park, recently renovated. It was quite destroyed because of the flood, which was in Prague in the summer 2002. "Strom" means a tree in Czech language and there really are lots of trees, but there are also beds with flowers, water fountain, a lake with ducks, but there are other interesting buildings in Stromovka, for example in 1961 was built here an astronomical observatory. But the park is mainly the favorite place, where Prague inhabitants spend their free time in the fresh air, surrounded by trees.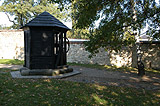 Not far from Stromovka is a park called Letenske sady (which in English means Letna Gardens). Here used to be a famous huge statue of the infamous dictator Stalin. Later was on this place put a huge statue of Metronome. And from the Metronome you can enjoy amazing view over Prague with Vltava River and all that amazing Prague towers, churches, palaces and other builidings. There are a lot of flowers planted in Letenske Sady, at this time exceed especially beautiful tulips of different shapes and colors. Plus, here is a popular beer garden with a beautiful view over Prague, or you can ask for beer in a plastic cap and enjoy it while walking through park or on some of plenty benches.
But probably the most famous of Prague parks are Petrinske Sady (Petrin Gardens) – according to the tradition, the ideal place for lovers. There is even a statue of their "patron" – a Czech poet Karel Hynek Macha, an author of very well-known poem Maj (May), which is an obligatory reading in almost all Czech high schools´ literature lessons. In Petrin is also a beautiful Rose Garden and popular mirror maze, lookout tower, Stafanik´s observatory, Memorial to the victims of Communism. And if you do not want to climb up on the Petrin hill, you can use Petrin funicular, a special mean of Prague public transport.
Weather is nice... which Prague park is worth relaxing? [June 18 2008, 08:08 AM]
Prague Baroque Jewel to Open for People [May 16 2008, 17:15 PM]
Zimbambwian sculptor in action in Prague [August 23 2007, 14:41 PM]
Fata Morgana greenhouse will be closed for 12 days [August 16 2007, 13:14 PM]
Unique exhibition of lilies in Prague Botanical Garden [July 2 2007, 16:48 PM]
Japanese bonsai in the Prague Botanical Garden [May 7 2007, 16:05 PM]
Exhibition of exotic butterflies in Prague's Botanical Garden [April 3 2007, 13:56 PM]
'The wood of deserts' exhibition in Prague Botanical Garden [March 9 2007, 16:00 PM]
Fata Morgana is closed this week [February 26 2007, 09:49 AM]
Palm Days in Prague's Botanical Garden [January 23 2007, 14:50 PM]
Exotic fruits and carnival costumes in Prague Botanical Garden [December 5 2006, 11:45 AM]
Gingerbread Days exhibition [November 24 2006, 12:56 PM]
Time Navigation
Newer articles:
Older articles: