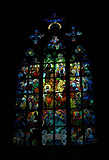 The exhibition tells the tale of the main castle complex in the country and the people associated with it – from monarchs and presidents to nobility and courtiers, famous artists, builders, architects and scientists to craftsmen and servants. It is the story of a complex bearing the secret of the last resting place of the most important Czech princes and kings and patron saints of our country, of a place preserving the Czech crown jewels, St. Vitus' Treasure, as well as a place representing a respectable residence of the head of the Czech Republic. The story begins in ancient history – in prehistory – and continues to the present time, recording more than 5,000 years, which mostly became fateful moments for Czech history and the history of all its inhabitants.
The main route leads through particular eras, to which are connected thematic branches – stories representing interesting items associated with Prague Castle, such as the Story of Coronation, Burial, Czech Patrons of the Church and Cathedrals. Part of the exposition is a special program for children, called Play Castle, and other interactive programs and projections.
Admission: Full 140 CZK : Reduced 70 CZK : Family 200 CZK
The Exhibition is open daily except 28.10 and 24.12, from 9 a.m. to 6 p.m. during the summer (1.4. – 31.10.) and from 9 a.m. to 4 p.m. in the winter (1.11. – 31.3.).
The entrance can be reached through the Third Courtyard and the North Courtyard. There is also an entrance from St. George's Square.
Time Navigation
Newer articles:
Older articles: