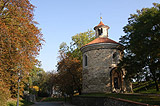 The United Nations Educational, Scientific and Cultural Organization (UNESCO) committee have honoured Prague for the state of Sights and Monuments at their meeting in Quebec. UNESCO approves of Prague, and Czech Republic heritage organization.
The Prague mayor Pavel Bem and the leader of municipal preservationists Jan Knezinek are very pleased with the results.
"Prague sight reservation is very unique and the extent and quality of sight keeping is very extraordinary in the world context. The note from UNESCO made me very happy." Bem wrote.
Skalsky, who criticizes building of the new skyscrapers at Pankrac, commented the report is surprising in the context of UNESCO last year deliverance about the planned construction at Pankrac. They expressed their "serious discomposure"with the new skyscrapers. Later on, the skyscrapers were granted a licence.
Related Articles
Time Navigation
Newer articles:
Older articles: