The Guardian's ladder of ten surprises, that wait for a tourist in Prague, completely ignores traditional sights of the metropolis. The list of pearls was put together by the British reporter Sarah Johnson. She recommends solid sights, but also experiences. For example the Zizkov Carnival is at the third place.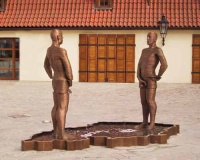 This list is for those, who are familiar with Prague, they know the traditional sights and want to see the hidden ones. British tourists are the second most numerous group of tourists; a half a million came to Prague in 2007 only.
The first place was given to David Cerny, whose artpieces can be seen in the whole Prague. Guardian mentions especially his 3-metres long babies crawling up the Zizkov television tower, or the couple peeing into the Czech Republic at Kampa.
Also, shops of young designers close to Karoliny Svetle street were evaluated quite positively during shopping and in atmosphere of surrounding restaurants.
Related Articles
Time Navigation
Newer articles:
Older articles: