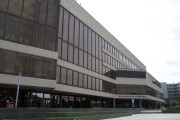 The Congress centre in Prague is to become a sturdy fortress for half a year. The top European politics are going to sit there, as the Czech Republic is the EU Chairman of 2009.
The way around Palac Kultury/Congress centre will be partially limited; there will be a distinguished security line for VIPs close to the Congress Centre, and there will be special police units simply everywhere.
Limousines of the politicians are going to be parked under the building, so probably there will be some limitations of the parking places for the others as well.
There were bigger events, like IMF meeting, however this one is undoubtedly the longest one. Total length of Czech EU Chairmanship with preparations of about 8 months will definitely be the longest one and certainly a very expensive event, but the managers of the Congress centre claim it is worth it for them – at least people will know about the building.
Klaus Denied Global Warming ... Again [February 2 2009, 11:26 AM]
Czech European Chairmanship Logo [November 13 2008, 13:55 PM]
Personalities of world culture and politics are in Prague [October 14 2008, 09:53 AM]
STB Interrogation Presentation to the EU Chairmanship [September 25 2008, 13:30 PM]
'We will make it sweet for Europe' Video for Czech EU chairmanship [September 5 2008, 11:41 AM]
Czech EU Chairmanship comes nearer [August 4 2008, 15:49 PM]
Vaclav Havel Interview for Financial Times [July 7 2008, 11:49 AM]
Ellen Tauscher comes to Prague [September 14 2007, 14:59 PM]
Madeleine Albright in the Forum 2000 Conference in Prague [September 6 2007, 17:12 PM]
International conference for democracy in Prague [May 15 2007, 14:21 PM]
Dalai Lama in Prague [October 10 2006, 09:32 AM]
Forum 2000 hosts Nobel Prize winners [October 9 2006, 09:47 AM]
The fate of Solar system lays in Prague [August 15 2006, 10:59 AM]
The XXVIth General Assembly of the International Astronomical Union in Prague [August 7 2006, 13:49 PM]
Congress Centre for sale [July 26 2006, 13:57 PM]
Prague is going to decide about the Solar System [July 24 2006, 13:29 PM]
Mathematics in the Centre conference in Prague [July 17 2006, 17:22 PM]
Prague as a place for congresses [July 12 2006, 17:16 PM]
2nd European Conference of Apidology [April 12 2006, 16:35 PM]
Fifth Workshop on Treebanks (TLT 2006) [February 28 2006, 17:56 PM]
XML 2006 Conference [January 12 2006, 12:44 PM]
Time Navigation
Newer articles:
Older articles: