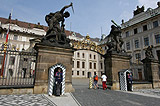 CzechTourism, an agency run by the state, informed about the most visited places in the Czech Republic. Not surprisingly, the Prague Castle holds firmly among the most visited, with Prague Zoo catching up.
Top Ten
1. Prague Castle 1.42 million
2. Prague ZOO 1.27 million
3. National Museum 687,000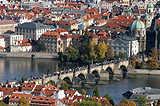 4. Jewish Museum 674,000
5. National Gallery 571,000
6. Dvůr Králové ZOO 542,000
7. Lešná ZOO 503,000
8. Theresienstadt Memorial 470,000
9. Prague Old Town City Hall 433,000
10.Pilsen ZOO and Botanical Garden 402,000
In the museum category, the National Museum in Prague was the most popular in 2007, followed by the Jewish Museum and the National Gallery, both in Prague.
Among the industrial sights, the first place went to Plzensky Prazdroj brewery, the maker of Pilsner Urquell. It attract tourists with a tour around the plant, short films, and tasting of their famous beer directly from the barrel.
The second place in the industrial section went to Prague Zizkov Tower.
Scuba divers found pieces of a bridge which was before the Charles Bridge in Prague [February 5 2009, 15:49 PM]
Prague not penalizing itself for Charles Bridge reconstruction [January 26 2009, 15:33 PM]
The Charles Bridge Reconstruction Dispute probably ends in a draw [November 12 2008, 08:25 AM]
Charles Bridge reconstruction - bungled or not? [November 6 2008, 14:22 PM]
Problems of Charles Bridge reconstruction [November 5 2008, 09:07 AM]
Old Town Square: Enthusiasts want Historical Pillar to return, have 3 pieces of replica already made [November 4 2008, 10:36 AM]
Charles Bridge myth is soon going to be Busted ... or proven True. [September 19 2008, 16:43 PM]
Mayors have delivered a petition against closing of Masarykovo Nadrazi [September 3 2008, 17:58 PM]
List of Most Wanted of Tourist Prague [September 1 2008, 13:46 PM]
Charles Bridge was harmed by salt, water and thoughtless repair [August 14 2008, 13:31 PM]
Masarykovo nadrazi – 19th century railway station in Prague planned changes [August 6 2008, 16:01 PM]
Charles Bridge Reconstruction [July 15 2008, 09:49 AM]
Prague doesn't, but Melnik wants the gift from Sarkozy [June 20 2008, 11:55 AM]
Czechs Refused Palach Statue [June 13 2008, 11:46 AM]
Will The Old Town City Hall ever be Completed? [May 7 2008, 18:01 PM]
Radecky's Statue to come back to Little Quarter? [April 18 2008, 11:48 AM]
Charles Bridge damaged more than expected [March 17 2008, 09:31 AM]
Digitalized model of Prague soon ready [February 19 2008, 09:04 AM]
Spring Weather got Charles Bridge reconstruction back on track [February 8 2008, 15:31 PM]
Tyn church, vista point of Old Prague, gets New Bell [December 10 2007, 17:50 PM]
Statues came back on the Astronomical Clock [December 7 2007, 12:05 PM]
A Vandal at Prague Astronomical Clock [December 6 2007, 14:15 PM]
Freezing weather ended Charles Bridge repairs [November 30 2007, 17:53 PM]
Archaeologists finished exploration of Charles Bridge [November 19 2007, 14:01 PM]
Martinic Palace in Prague opens to the public [September 7 2007, 14:41 PM]
Time Navigation
Newer articles:
Older articles: