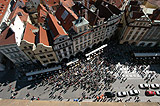 Nobody doubts the road-toll introduction in Prague center will be introduced. In one year the pilot project, where the councillors establish a few streets in the centre as testing ones, starts. Few months later, they start to collect in the area of large part of Prague 1.
The Prague Mayor Bem stated from the beginning that it is a tool for disabling the drivers to thicken the traffic. With the same arguments he defends the sum of 55 millions czk, which the Prague citizens pay for the devices and others. But the money will soon return – the road-toll system is expected to bring significant profits as well.
The toll is primary for preservation of the historical core of Old Prague, which was build for pedestrians 500 years ago and it suffers heavily by everyday traffic jams.
Prague Transport Company Changes in 09 – less of everything [January 27 2009, 09:55 AM]
Prague Parking Zones Changes in 2009 [January 23 2009, 13:53 PM]
Underground Prague Highway should save the Wenceslas Square [January 21 2009, 13:49 PM]
Congress Centre: Traffic During Chairmanship [January 15 2009, 13:18 PM]
Gas cheaper, Taxi not in Prague [January 9 2009, 11:42 AM]
Pay for Prague Parking by Mobile Phone [January 5 2009, 17:32 PM]
Prague Public Transport, Sundays 2009: less lines [December 22 2008, 08:49 AM]
Christmas parking in Prague for Free [December 17 2008, 09:54 AM]
CSA Flights no longer with Free Food [December 12 2008, 07:48 AM]
Future Toll in Prague: Proposal of 120 czk [November 20 2008, 09:46 AM]
Czech Greens made trucks stop on Friday evenings. [November 13 2008, 15:26 PM]
Czech Police has new cars, 2009 style management of traffic accidents [November 3 2008, 14:39 PM]
The tunnel under Vysehrad is out of order [November 3 2008, 10:46 AM]
When do I need Winter Tires in the Czech Republic? [October 31 2008, 14:33 PM]
The station Narodni trida in Prague will be only closed for 8 months [October 31 2008, 08:44 AM]
The tunnel under Vysehrad is going to be closed. [October 31 2008, 07:06 AM]
Engineering sites under Prague sight-seeing [October 16 2008, 11:23 AM]
Borders of Prague to have more green [October 15 2008, 09:55 AM]
Road-toll in the centre of Prague will be 50-100 czk [October 14 2008, 14:03 PM]
CSA strengthening lines to Germany [October 9 2008, 11:29 AM]
Afterpiece of Prague Taxi Demonstration [October 8 2008, 11:48 AM]
The USA to abolish Visas for Czechs? [October 7 2008, 09:47 AM]
Road-toll in Prague silently coming nearer [October 6 2008, 13:38 PM]
Prague Taxi Drivers Demonstrate at Airport [October 1 2008, 08:58 AM]
New Prague Tourist Map: Sightseeing routes by Tramway [September 23 2008, 15:55 PM]
Time Navigation
Newer articles:
Older articles: