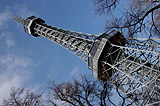 Since Thursday to Sunday the Prague Lookout Tower is going to broadcast light and sound signals. The Project called Ne – tajné signály (no-secret signals), which author is the Italian artist Stefano Cagol, is a part of the international festival of contemporary art Tina B.
The sound and light signals broadcasted in Morse code will liven up the Lookout Tower for a few minutes at 7, 8 and 9 pm.
The art light in metropolis takes place because of the Tina B. festival since 25 September to 15th October, introducing various forms of committed art. About seven tens of artists participate. It is in Laterna Magika, Galerie Kritiku in Adria palace and Italian cultural institute in Dukelskych hrdinu street.
Cursed Gold in Prague Still Attracts [January 27 2009, 11:23 AM]
Humorous Mosaic made Bulgarians angry [January 14 2009, 09:49 AM]
Modern Middle-Eurpean art exibition in Prague [December 29 2008, 11:54 AM]
Various pictures of Jesus' birth in Prague [December 23 2008, 11:52 AM]
Nativity Scene Prague Exhibition [December 22 2008, 10:42 AM]
Important Chapter of Czech Design exhibition [December 4 2008, 15:44 PM]
Diamond jewels exhibited in Prague [December 3 2008, 12:00 PM]
Jewels from age of st. Wenceslas at Prague Castle [November 21 2008, 11:10 AM]
Inca Gold Exhibition at Prague Castle [November 10 2008, 14:46 PM]
Bronze babies at Kampa [October 31 2008, 10:41 AM]
The Industrial Palace will revive. By Erotic Exhibition this weekend. [October 30 2008, 08:22 AM]
Legendary Indian Gold in Prague Exhibition [October 24 2008, 17:34 PM]
Tutankhamun – Huge exhibition at Brno started [October 16 2008, 15:30 PM]
The exhibition in Prague maps concentration camps [October 14 2008, 17:15 PM]
Artist to broadcast Morse code from Petrin lookout Tower [October 9 2008, 13:48 PM]
The Metropolis and 90th anniversary of the Republic foundation [October 8 2008, 17:45 PM]
Designblok in Prague [October 6 2008, 15:46 PM]
Cursed Gold at Prague Castle Exhibition [October 2 2008, 15:19 PM]
Designblok of this year – focus on Czech mode [October 1 2008, 15:31 PM]
Germany going to lend the originals of Munich Agreement [September 24 2008, 17:45 PM]
Martha Rosler in Prague Gallery Langhans [September 23 2008, 17:43 PM]
Prague Airport shortly a Gallery [September 17 2008, 13:54 PM]
Blue Mauritius is in Prague, You can see it. Only This Weekend [September 11 2008, 15:56 PM]
Pumpkins Exhibition in Prague [September 3 2008, 16:39 PM]
Zizkov Tower Babies going to Kampa [August 27 2008, 09:45 AM]
Time Navigation
Newer articles:
Older articles: