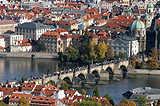 The Charles Bridge reconstruction has been going on for quite some time, and now there will be another delay; two groups interested are now going to fight, whether the reconstruction is going on in right or wrong direction.
The 1st side: the Inspection of Ministry of Culture, focused on the works. They state in their report the new stone blocks which are used are planted in a wrong way and than chipped additionally. Also, there was no need of using so many new stones. According to the report, the reconstructing company didn't do archaeological research before the works.
The 2nd side: Mott MacDonald company, doing the reconstruction, defend, they did archaeological research as the first thing, they have documents proving that the stones were really damaged by salting and the communist reconstruction of 80's. The culture and sight leader of Prague City Hall Jan Knezinek said that "…published document is a shame of the Ministry inspection" but the MacDonald company however admits some of the stones were not embedded exactly.
We are going to find out in coming weeks, it may be decided at a court, but one thing is clear already: the Charles Bridge reconstruction will take much longer.
Scuba divers found pieces of a bridge which was before the Charles Bridge in Prague [February 5 2009, 15:49 PM]
Prague not penalizing itself for Charles Bridge reconstruction [January 26 2009, 15:33 PM]
The Charles Bridge Reconstruction Dispute probably ends in a draw [November 12 2008, 08:25 AM]
Charles Bridge reconstruction - bungled or not? [November 6 2008, 14:22 PM]
Problems of Charles Bridge reconstruction [November 5 2008, 09:07 AM]
Old Town Square: Enthusiasts want Historical Pillar to return, have 3 pieces of replica already made [November 4 2008, 10:36 AM]
Charles Bridge myth is soon going to be Busted ... or proven True. [September 19 2008, 16:43 PM]
Mayors have delivered a petition against closing of Masarykovo Nadrazi [September 3 2008, 17:58 PM]
List of Most Wanted of Tourist Prague [September 1 2008, 13:46 PM]
Charles Bridge was harmed by salt, water and thoughtless repair [August 14 2008, 13:31 PM]
Masarykovo nadrazi – 19th century railway station in Prague planned changes [August 6 2008, 16:01 PM]
Charles Bridge Reconstruction [July 15 2008, 09:49 AM]
Prague doesn't, but Melnik wants the gift from Sarkozy [June 20 2008, 11:55 AM]
Czechs Refused Palach Statue [June 13 2008, 11:46 AM]
Will The Old Town City Hall ever be Completed? [May 7 2008, 18:01 PM]
Radecky's Statue to come back to Little Quarter? [April 18 2008, 11:48 AM]
Charles Bridge damaged more than expected [March 17 2008, 09:31 AM]
Digitalized model of Prague soon ready [February 19 2008, 09:04 AM]
Spring Weather got Charles Bridge reconstruction back on track [February 8 2008, 15:31 PM]
Tyn church, vista point of Old Prague, gets New Bell [December 10 2007, 17:50 PM]
Statues came back on the Astronomical Clock [December 7 2007, 12:05 PM]
A Vandal at Prague Astronomical Clock [December 6 2007, 14:15 PM]
Freezing weather ended Charles Bridge repairs [November 30 2007, 17:53 PM]
Archaeologists finished exploration of Charles Bridge [November 19 2007, 14:01 PM]
Martinic Palace in Prague opens to the public [September 7 2007, 14:41 PM]
Time Navigation
Newer articles:
Older articles: