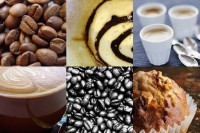 On one hand, there are gastronomic jewels attracting to home-made sweets, decently dressed personnel and period music, on the other side there are chains of fast foods, offering coffee in paper cups with a plastic spoon. Two competitors, who fight against each other on the field of Prague gastronomy.
Meanwhile renowned premises return to the centre, betting on the shine of the First Republic, the large shopping malls are a often the host of new fast-food premises, this time not offering foods, but coffee. The Costa Coffee enters the Czech pool in January. They aim not only for shopping centres, but also for libraries and other public places.
The new chain Costa bets on their coffee mocha, made from seven kinds of slowly roasted beans. Starbucks are successfully running their first shop and planning to open a new one.
Related Articles
Time Navigation
Newer articles:
Older articles: