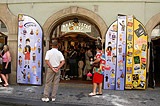 Narrow streets in the Old Town are crowded. The pavements are narrow, parked cars and streets take too much of the space, which was originally, hundreds of years ago, designed for pedestrians only. The great crowds of tourists, who go to see the Royal Route, plus number of natives have to squeeze their way through everyday – that should change. The Town Hall of Prague 1 is going to make some changes, starting the Vienna-styling of streets and pavements; the streets are going to be lifted to the level of pavements.
The other visible street change will be the street surface. They are going to be re-paved, the pavements will get new mosaic paving. The current single-shift streets stay on their place, but the speed is going to be more reduced.
The whole area should be came more accessible to pedestrians, which is the main reason for the adjustments. There should be less car traffic and more aesthetics. There will be more front gardens. One square form old times returns, pushing one parking lot away; it makes place for two trees, benches and a drinking fountain.
Czech Communists gathered to protest against Radar [February 2 2009, 15:57 PM]
Peace Oasis at Prague Islands at construction [January 26 2009, 17:18 PM]
Viselec returned to Prague [January 22 2009, 15:33 PM]
Illuminated Sculptures in the Streets of Prague [January 8 2009, 13:55 PM]
Some gambling houses to disappear from Prague [January 5 2009, 11:41 AM]
The Royal Route in Prague renowned [November 28 2008, 15:12 PM]
Copa Centre on Narodni Trida – Offices, Flats, Shopping.... [November 12 2008, 12:45 PM]
Narodi Trida in Prague closes in summer 2009 [November 11 2008, 16:33 PM]
Neo-nazis wanted to march through Prague, weren't allowed [November 11 2008, 12:51 PM]
Kocka's burial: 3 pairs of horses [October 22 2008, 10:23 AM]
Bronze paving stones – little Jew monuments in Prague [October 9 2008, 09:39 AM]
Zizkov Tower Upgrade This Monday [October 3 2008, 11:41 AM]
Narodni Trida Station is going to be Closed [September 23 2008, 09:39 AM]
Video: Tourist trip to Prague – fun, happy [September 12 2008, 12:50 PM]
Destination Unknown Prague, Czech Republic [August 15 2008, 17:54 PM]
Art Phone = Phone boots with an attitude [July 24 2008, 09:35 AM]
Prague charity project - buy a brick, help to build [July 9 2008, 08:35 AM]
In the end the Sausages from Wenceslas square have to go [July 3 2008, 15:22 PM]
Prague Bans Public Drinking ... Soon ... ? [June 12 2008, 09:46 AM]
Olympic Day Run in Prague [June 10 2008, 17:31 PM]
Czechs cheering – Football team beaten Switzerland [June 9 2008, 11:45 AM]
The famous Zizkov Tower will get an upgrade [June 6 2008, 14:16 PM]
Caricatures of Prophet Mohamed appeared in Prague [May 30 2008, 09:21 AM]
Five Thousand Contestants Participe Prague Marathon [May 12 2008, 09:48 AM]
1st May and Neo-nazi gathering [May 5 2008, 12:02 PM]
Time Navigation
Newer articles:
Older articles: