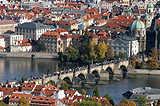 The dispute among two conservationist units in Prague continue. Up to now, it seems like the biggest problem of the Charles Bridge reconstruction is missing documents. "To work up the construction-historical research is the basic presumption of a quality sight repair." said Lenka Svobodova, the representative of The Inspection of the Ministry of Culture, the main criticizing institution.
For instance – the stone railing doesn't have the necessary documentation, which was supposed to be tip-top before the works started. The Inspection finds the railing to be harmed, however it is hardly visible by an eye. Another opinion has the Old Prague Club – according to them the problem is on the side of the Capital itself, because the Charles Bridge should have a specialized group of experts who would take care of it permanently.
The Mott MacDonald company, which works at the reconstruction, feel the name of the company was harmed by the preservationist inspection, who let it all to the media, even when half of their points are highly discussable.
Planned Skyscrapers at Pankrac again centre of dispute [January 22 2009, 09:50 AM]
The Wing of Palace at Prague Exhibition Ground is Back [January 20 2009, 17:38 PM]
Prague Refuses to penalise itself for Charles Bridge Repair [December 30 2008, 15:58 PM]
Prague Industrial Palace Fire Source? Still Unknown [December 10 2008, 13:41 PM]
How to repair Charles Bridge [December 2 2008, 13:38 PM]
Prague Industrial Palace Plans lost & found [November 26 2008, 17:34 PM]
The Charles Bridge dispute goes to Court [November 21 2008, 09:32 AM]
Prague Houses by Incomers, Imported Architecture [November 19 2008, 11:55 AM]
Prague National theatre Celebrates 125 years from its re-opening [November 18 2008, 17:46 PM]
Representatives of no-close-narodni-metro-station petition met politicians. [October 16 2008, 13:32 PM]
Czech National Building in New York re-opens [October 16 2008, 09:47 AM]
Seaworld at letna finally denited! [October 10 2008, 11:56 AM]
New Space Lagoon in Prague Seaworld [October 8 2008, 15:35 PM]
Prague court came between developer and Pankrac [September 8 2008, 13:45 PM]
Tesla Arena: The New Name of T-Mobile arena [September 5 2008, 13:34 PM]
Pankrac Skyscrapers are going to be there [August 15 2008, 11:26 AM]
UNESCO: Prague shouldn't build skyscrapers taller 70m [August 14 2008, 11:50 AM]
Brothels in Prague are Camouflaged. They have to be. [July 29 2008, 11:59 AM]
Zizkov transmitter prepares for its 'air show' [June 19 2008, 15:36 PM]
Prague Main Bus Station Florenc Reconstruction [June 18 2008, 11:49 AM]
It's decided: The new post-modern skyscrapers will be build in Prague [June 17 2008, 13:49 PM]
Will Old Town Square Get a new Building? [February 21 2008, 17:55 PM]
Second Big Reconstruction of Prague Congress Centre at hand [January 22 2008, 11:36 AM]
Charles Bridge statues Cleanup [January 14 2008, 09:40 AM]
Project of Letna Ocenaium Underwater World in Prague moved or ended [December 5 2007, 18:25 PM]
Time Navigation
Newer articles:
Older articles: