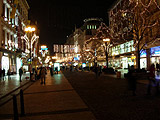 Snow – during Christmas it is going to be only at mountains, the lowlands will be too hot.
8th – 14th December – cold North-West flowing with cold mornings, following cold days.
15th – 21st December – inverted cloudiness with daily temperatures about 0°C
22nd – 28th December – traditional warming
This week is going to be somewhat cloudy with sporadic rainfalls, which can be snowy at the mountains. During the week, freezing fog can appear. Daily temperatures are going to be between 0° and 4°C.
According to the experience, the traditional weather during Christmas is about 0°, so usually only wet mud and no snow, but that applies to Prague. Above 650 m could be snow this year. For actual Prague weather continue here
Danger of Avalanches in Krkonose, Czech Republic [February 2 2009, 13:17 PM]
Winter in Prague, January 2009 [January 12 2009, 09:45 AM]
Minus 34 °C, Cold in Czech [January 8 2009, 09:17 AM]
Metropolis prepares for a week of snow [January 5 2009, 09:40 AM]
Prague – No Christmas Snow [December 23 2008, 09:00 AM]
Prague weather during Christmas [December 8 2008, 17:27 PM]
Prague covered by snow this weekend [November 24 2008, 10:00 AM]
First 2008 snow, Czech weather [October 30 2008, 16:35 PM]
First snow in Czech Republic in September [September 17 2008, 11:43 AM]
Weather in Prague in August [July 21 2008, 09:55 AM]
Yesterday storm flooded Mustek Metro in Prague [July 4 2008, 15:49 PM]
An Extraordinary Storm This Evening [July 3 2008, 13:42 PM]
Rainstorms in Prague [June 2 2008, 17:56 PM]
The Czech Republic in Danger of Floods [May 19 2008, 09:55 AM]
April 2008 Weather in Czech Republic [April 11 2008, 13:55 PM]
Snow came back to Prague [March 19 2008, 11:39 AM]
March ducks are nesting. It means spring is here. [February 26 2008, 16:09 PM]
The sun brought Prague citizens outdoors [February 11 2008, 13:49 PM]
Year 2007 was extremely hot in the Czech Repubic [January 7 2008, 09:58 AM]
Be careful – there are windstorms and snowing in the Czech Republic [January 4 2008, 09:41 AM]
Hot weather in Prague continues [July 17 2007, 10:03 AM]
Prague suffers from tropical temperatures [July 16 2007, 10:00 AM]
Experts warm : wind storms [January 11 2007, 11:15 AM]
Time Navigation
Newer articles:
Older articles: