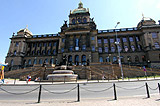 In two years, the most hated part of expressways in the Czech Republic, the heritage of the communists which cuts the Czech nation on the Wenceslas Square from their National Museum should be gone. The traffic, which torments the upper part of the Wenceslas Square should be moved to underground in two years.
The Prague City hall and Prague 2 argue about how long the tunnel should be. Meanwhile the city representatives want it only at the National Museum, Prague 2 would like to see the tunnel reaching Nuselsky most. According to them, only a little number of people go from Wenceslas Square to Vinohrady compared to the amount of people who have to cross the expressway at I.P.Pavlova.
Prague 2 let to make their own study from Metroproject the company which cooperates with Metrostav in creating Prague Metro, so the Prague artery would go from Nuselsky Bridge to Hlavni Nadrazi. The negotiations have begun and it will probably end in some kind of a compromise.
Prague Transport Company Changes in 09 – less of everything [January 27 2009, 09:55 AM]
Prague Parking Zones Changes in 2009 [January 23 2009, 13:53 PM]
Underground Prague Highway should save the Wenceslas Square [January 21 2009, 13:49 PM]
Congress Centre: Traffic During Chairmanship [January 15 2009, 13:18 PM]
Gas cheaper, Taxi not in Prague [January 9 2009, 11:42 AM]
Pay for Prague Parking by Mobile Phone [January 5 2009, 17:32 PM]
Prague Public Transport, Sundays 2009: less lines [December 22 2008, 08:49 AM]
Christmas parking in Prague for Free [December 17 2008, 09:54 AM]
CSA Flights no longer with Free Food [December 12 2008, 07:48 AM]
Future Toll in Prague: Proposal of 120 czk [November 20 2008, 09:46 AM]
Czech Greens made trucks stop on Friday evenings. [November 13 2008, 15:26 PM]
Czech Police has new cars, 2009 style management of traffic accidents [November 3 2008, 14:39 PM]
The tunnel under Vysehrad is out of order [November 3 2008, 10:46 AM]
When do I need Winter Tires in the Czech Republic? [October 31 2008, 14:33 PM]
The station Narodni trida in Prague will be only closed for 8 months [October 31 2008, 08:44 AM]
The tunnel under Vysehrad is going to be closed. [October 31 2008, 07:06 AM]
Engineering sites under Prague sight-seeing [October 16 2008, 11:23 AM]
Borders of Prague to have more green [October 15 2008, 09:55 AM]
Road-toll in the centre of Prague will be 50-100 czk [October 14 2008, 14:03 PM]
CSA strengthening lines to Germany [October 9 2008, 11:29 AM]
Afterpiece of Prague Taxi Demonstration [October 8 2008, 11:48 AM]
The USA to abolish Visas for Czechs? [October 7 2008, 09:47 AM]
Road-toll in Prague silently coming nearer [October 6 2008, 13:38 PM]
Prague Taxi Drivers Demonstrate at Airport [October 1 2008, 08:58 AM]
New Prague Tourist Map: Sightseeing routes by Tramway [September 23 2008, 15:55 PM]
Time Navigation
Newer articles:
Older articles: