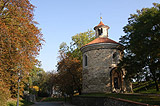 The second year of the festival called A Capella Festival takes place this Friday in the romantic park Vysehrad in Prague, at the Old Burgrave building (Stare purkrabstvi). The concert would be not just for the Christians, all good folks are welcome. The evening moderates Ester Kocickova, a very sensitive soul person.
The performing groups are: Yellow Sisters – ll-women vocal group – acapella, who travels through genres with easiness – soul, funky, r'n'b, world music, jazz and reggae. They are musical illusionists, experimenting with voice and looking for originally ways of expressing melodies and rhythm.
Others are Vokalni skupina VOSK, vocal group who sing various very old religious and folk songs, Kackala, a group of girls bringing angry words of wisdom, freedom, and some mobilities as a bonus. Ridina Ahmedova uses the technique which Bobby mcFerrin used for his song don't worry be happy.
17th November from 19:00 tickets: 200 czk, park Vysehrad dressed in autumn colors.