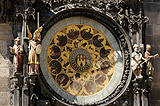 Statues at the Old Town Astronomical Clock are after two weeks back on their place. The Prague 'orlojnik' have installed them yesterday. The lower statues, which place is by the Calendar (which is the lower clock face) are Chronicler, Angel, Astronomer and Philosopher.
They came through a complete restorer maintenance. A restorer Jiri Matejka added the lost hand of Astronomer which an unknown vandal broke off (and also damaged stone parts of the clock).
The Astronomical Clock becomes often a target of attacks of vandals. Lastly, a young man climbed the clock this Wednesday, just for fun. But the clock faces belong to the most fragile parts of the monument. They are made of acid-etched glass.
For all the future vandals: police officers are permanently present on the Old Town Square so they can get to the monument in a matter of seconds, rather than minutes.